Support
for
payers
Save yourself time and cost
Glenmark can provide financial savings estimates for your Primary Care Organisation (PCO), as well as formulary information to help save you time. You can also access our Respiratory Implementation Portal, which can help you plan and implement formulary decisions, saving you time and budget.
Switching to Tiogiva could help you save significantly on your drugs budget – a PCO spending £640,000 on tiotropium capsule inhalers could save £200,000 with Tiogiva.15 We know that the process isn't always straightforward, but we're here to help.
If you're a member of a Medicines Management team and would like to gain access to the portal please arrange an appointment with us.
Already have access and
want to log in? Click here.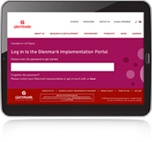 Support
for
pharmacists
To help you bring Tiogiva to your pharmacy, we've developed a series of helpful printed materials for your patients and guidance for your team:
Pharmacy guide to Tiogiva

Tear-off patient leaflets explaining how to use Tiogiva that you can put inside prescription bags

Stickers to put on prescription bags, helping staff to identify when Tiogiva has been dispensed and reminding them to discuss it with patients

Handy guide to help your team use the above, dispense Tiogiva and answer any questions patients might have
Order your support pack and materials here.